League 1: Chindia Târgoviște – FC BotoșaniFriday, 5:30 p.m., Digi Sport 1

Ligue 1: CS Mioveni – DinamoFriday, 8:30 p.m., Digi Sport 1
Leicester – Rome and Feyenoord – Marseille, Conference League semi-finals
PAOK Salonika, with Alexandru Mitriță on the pitch in the 57th minute, lost at home to Olympique de Marseille, score 0-1.
The Greek fans created an incendiary atmosphere on "Toumba", exceeding the official capacity of the stadium.
AS Roma took their revenge on Bodo / Glimt, after the failure in Norway. Jose Mourinho's side won 4-0, and Nicolo Zaniolo was the hero of the match, scoring a hat-trick.
Leicester won in Eindhoven with PSV, score 2-1, after 0-0 in the first leg. The English returned the result in the last quarter of an hour.
Slavia Prague and Feyenoord again offered a spectacular match, after 3-3 in the round of 16. In the Czech Republic, the Dutch team won 3-1 and continues.
The UEFA Conference League semi-finals are Leicester – AS Roma and Feyenoord – Marseille. The clashes are scheduled in double rounds, on April 28 and May 5.
UEFA Conference League, sfertuof the final, return
PAOK Thessaloniki – Olympique Marseille 0-1 (Payet 34′) (1-2 on tour)
* Alex Mitriță came on as a substitute as the clock showed 57 minutes.
AS Roma – Bodo / Glimt 4-0 (Abraham 6′, Zaniolo 23′, 30′, 49′)(1-2 on tour)
Slavia Prague – Feyenoord 1-3 (Traore 11'/ Dessers 2′, 59′, Sinisterra 78′)(3-3 rounds)
PSV-Leicester 1-2 (Zahavi 27′ / Maddison 77′, Pereira 88′), (0-0 per lap)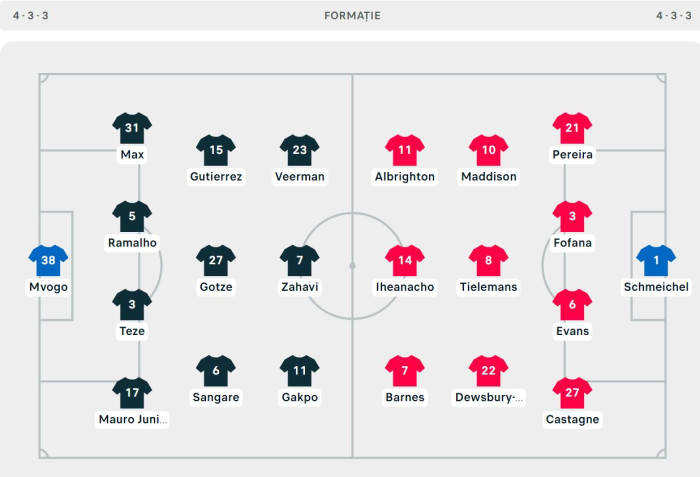 Conference League, quarter-finals | Răzvan Lucescu and Alexandru Mitriță fight for a place in the semi-finals
PAOK Thessaloniki abandoned in the first gamescored 1-2 at the Stade Vélodrome, but Răzvan Lucescu's team did not give up, and the Romanian coach was ready to do everything possible to qualify for the penultimate phase of the competition.
"A coach can't say much in such games. The only thing I stressed is that you have to trust yourself and play like in the second half in France.
What we are experiencing in Europe this year is very beautiful. It is a unique experience that is of great importance to us. It's nice to be here. We're excited, we know the fight is tough, but we're going to give it our all. We are very close to the final. Together with the people around us, we will fight for what we dream of.
Our fans know very well what to do. Neither the big players nor the big teams will have it easy at Toumba Stadium.
Marseille are the favorites to qualify, as they were before the first game. Marseille are second in France just behind PSG. They are a quality team, but we also have a great will."said Răzvan Lucescu, during the press conference held on Wednesday.
Keywords: razvan lucescu , as roms , marseille , paok salonica , psv , feyenoord , Leicester , Alexander Mitrita , slavia praga , conference league , will / reflection
---
Also follow the news of digisport.ro on Google News
---
The new Digi Sport app can be downloaded from