Article GSP – Posted on Saturday, April 16, 2022 7:08 PM / Updated on Saturday, April 16, 2022 9:56 PM
Cristiano Ronaldo (37) scored a hat-trick in Manchester United's 3-2 victory over Norwich in the 33rd round of the Premier League.
Cristiano Ronaldo took charge in the last Premier League game and opened the scoring in the 7th minute Elanga collected a ball in the opposition box and showed selflessness passing to the Portuguese who was alone 10 meters away of the goal.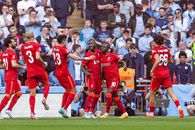 The 2-0 success came in the 32nd minute, following a corner taken by Telles. Cristiano got up and scored with a header. The guests did not give up, they equalized thanks to Dowell (45 + 1) and Pukki (52).
Cristiano Ronaldo, recital at Manchester United – Norwich
The destination of the points was set by Ronaldo, with a sensational execution, from a free kick from around 20 meters, right side. The ball hit perfectly and the ball went out.
The last goal he scored from a free kick was in a Juventus jersey on July 4, 2020.
Cristiano Ronaldo, new record
At that, Cristiano Ronaldo was noted for a hat trick!
60 career hat tricks;
21 goals scored for Manchester United this season in all competitions;
became the first player aged 36 or over to score at least 15 goals in a Premier League season;
rose to 3rd place in the number of goals scored from free kicks (12) in the Premier League, after David Beckham and James Ward-Prowse (18 and 13 respectively).
How other goals were scored at Manchester United v Norwich
min. 7, 1-0, Ronaldo's goal
min 32, 2-0, goal by Ronaldo
mine. 45+1, 2-1, Dowell goal
min. 52, 2-2, gol Pukki
Manchester United, in the fight for the top 4
Manchester United are back in the fight for Champions League places, benefiting from defeats suffered by Tottenham and Arsenal on Saturday. The "red devils" have 54 points, including 3 under the team coached by Antonio Conte. There are 6 additional stages to play.
Read other European football news:
VIDEO SalvaMarin! The Romanian midfielder "carried his team on his shoulders" + Chiricheș, disappointing: "He fell apart with the team"
Sergio Ramos, about to leave PSG "where he is expected this summer