Kim Kardashian, 41, and her boyfriend, Pete Davidson, 28, lit up on the internet with snaps posted by Kanye West's ex-wife to her Instagram account. In the photos, the two express their feelings in a very passionate way.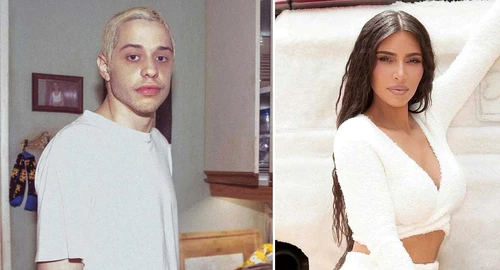 Kim Kardashian and Pete Davidson, in passionate poses that have heated the Internet!
Kim Kardashian has released the first official images with Pete Davidson, confirming that the two really are a real couple and that it's not just a passing romance.
Continue reading Kim Kardashian, a new video prohibited for minors? The star is terrified after her son finds out about her past
The brunette wanted, as usual, to surprise with the most provocative photos, so she posed with her boyfriend in passionate poses, as they had never been seen before.
Kim Kardashian posted the photos on her Instagram account. In the photos of the couple, the ex-wife of Kanye West can be seen wearing a low-cut and extremely tight silver dress, and Pete Davidson holds her in his arms and kisses her neck. From the photos, you can see that the lovers are actually in a restaurant, proof that they are ready to express their feelings publicly.
Kim Kardashian, haunted by her controversial past
Images of Kim Kardashian and Pete Davidson in the heat of passion appear shortly before the star reveals a moment that marked her terribly.
Continue reading Kim Kardashian showed off her curves in the most beautiful dress! It looks painted on the body!
Kim Kardashian's past seems to be catching up. Recently, an unauthorized spam ad appeared announcing that new images of the star would be released in poses prohibited to minors, alongside her ex-boyfriend Ray J. In 2008, Kim Kardashian was at the center of a monstrous scandal during an intimate shoot with his partner. it was posted online.
The one who showed Kim Kardashian the ad was her 6-year-old son, Saint, who discovered the ad while playing online.
The star has appealed to lawyers and threatens legal action if images of her are published on an adult site.
If you have a tip or more information on the subject, write to us at [email protected]