Manuela Hărăbor doesn't go out often at social events, but I met her at the premiere of the film "#dogpoopgirl" by director Andrei Huțuleac. This is because the actress in the lead role, Andreea Grămoșteanu, is her good friend, as Manuela herself told us. We talked about the recently celebrated 54 years and the 50 years since her acting debut, but also about her son and his parents. Here is what Manuela Hărăbor told us, in an exclusive interview.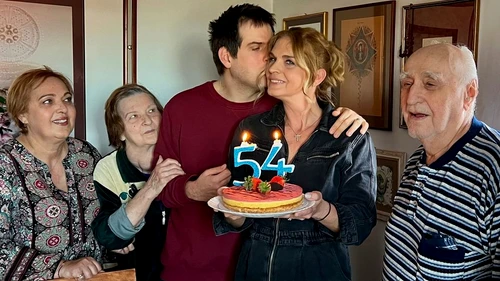 Manuela Hărăbor turned 54 on April 2
Click! : How are you madam, what plans do you have? You are as young and beautiful as you are at 50..
Manuela Harabor: I rehearse with Andreea Grămoșteanu, in a show, at Teatrul Mic. We're releasing the premiere at the end of May, and I even said, "The best directors are actors!" Because, I am in total admiration for Andreea. I knew her as a very good actress, but she surprises me at rehearsals that she has fantastic directing talent. We are releasing a comedy, "Slaughter" will be named after "God of Slaughter" by Yasmina Reza.
But aren't you making a film too?
Film? (laugh). I'm happy for my fellow filmmakers. It seems to me that I retired many years ago. It's been 50 years since I started. I filmed for about 30 years, then I gave up.
Have you been 50 since your debut?
Yes, from "Veronica". It's been 50 years since the premiere. So I was 4 years old.
I would like to see you in a leading role, in a series. Stronger than the role in "Vlad". Be a "bad" lady.
I expect to age a bit. Looks like I'm still middle-aged. I have nothing to do. I do not know. Joke. I cannot say. I'm not one to pay much attention. I don't have time to go there. Listen, this is an exception, because I'm out of the house in the evening, because my schedule is quite busy.
Spend a lot of time with your family…
I am with the child and the parents. They are getting old and can't cope. In general, I go out of the house, in the evening, to very close friends. As was the case with Andrea here. For her, I asked her mother for a ticket and I received it. So I don't stretch the rope much.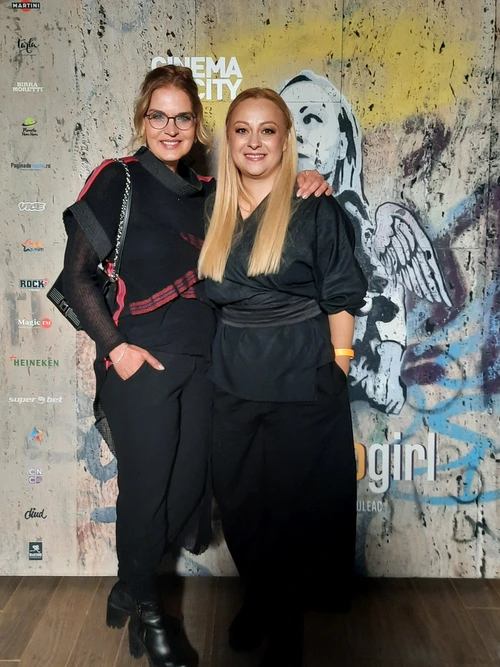 Manuela Hărăbor and Andreea Gramosteanu
How old is your son?
My son is 31 years old. Go 32.
He is equally "young and restless".
He is a restless young man, indeed, who reassures me and also worries me.
Do you still go to the beach together?
To go. We have had an apartment in Năvodari for two years and we are escaping. Almost monthly. Now, less, in these two months, where I am busy with theater rehearsals. Let's hope we get over it, starting in June.
How was your birthday (she turned 54 on April 2)?
It was beautiful in the family. I appreciated the greatest gift I received, and this year, having my parents by my side. I was in great shape. As long as it is, everything will be fine. I'm happy with every passing moment.
How was the cake?
The cake was a vegan cake, but very good. I am fasting, we are in Lent. Most of the time, my birthday is just fasting. Every year I sit down and get inspired by the posts I see, what I hear and try all kinds of options. And, look, I did it this year too. It was really good!
Manuela Hărăbor, about the role in "Pădureanca": "Adrian Pintea and Şerban Ionescu gave me confidence"
Manuela Hărăbor, one of Romania's most beautiful and talented actresses, made her debut in the children's film "Veronica" at just 4 years old. The role that consecrated her was that of 1987, of Simina from "Pădureanca". He attended the Theater and Film Academy, where he graduated in 1991.
Manuela was only 18 when she was chosen for the film "Pădureanca", alongside big names in Romanian cinema, Adrian Pintea, Şeran Ionescu, Victor Rebengiuc and Dorel Vişan. In an interview given a few years ago, the actress recalled that she had great emotions, but Adrian Pintea and Serban Ionescu helped her a lot. Moreover, Manuela is convinced that without them she could not have performed as well.
"I had emotions, but my luck was that Adrian Pintea and Şerban Ionescu were fantastically generous. They never treated me like an unprofessional actress, they always gave me credit, they gave confidence and they found the time and patience to work and rehearse with me before each sequence of the film so that I could get closer to their value.
And I'm absolutely convinced that I couldn't have done what you see in the film today without their help. Nothing is accidental and I believe in things that God has set for a purpose. I have always said that Adrian Pintea was my first film teacher and fate made it so that three years later I was already a student at the Faculty of Theater, in the third year our teacher, Mircea Albulescu, brought Adrian Pintea as an assistant and the exam I gave him a diploma under his direction ", Manuela told a few years ago.